BOTOX & FILLERS AT THE SHOT SHOP MED SPA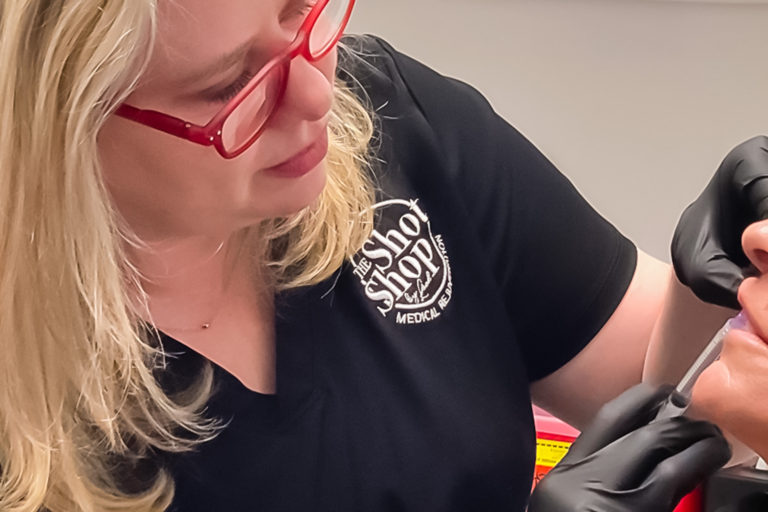 The providers at The Shot Shop by Leah Kenney, PA-C have over 20 years' experience and utilize the most advanced training and techniques when it comes to BOTOX and fillers. We offer the latest and most effective injectable solutions to have you smooth, filled and plump where you need it. We are experts in relaxing lines and wrinkles with BOTOX; we treat deeper lines, folds and wrinkles with dermal fillers such as Juvederm We can reduce fat below your chin with Kybella, add volume to your cheeks with Voluma, and plump your lips with Volbella.
NEUROTOXINS
What is BOTOX Cosmetic?
BOTOX is the most well-known and the most popular neurotoxin; it is the world's most popular non-invasive cosmetic treatment. BOTOX is used to relax the lines and wrinkles on the forehead, between the brows and around the eyes to diminish the appearance of crow's feet. BOTOX lasts on average 3 – 4 months; results are fully seen within 2 weeks.
What is Jeuveau?
At The Shot Shop by Leah Kenney, we have the latest neurotoxin to the hit the market called Jeuveau. Also known as "Newtox" this new product works very similarly to BOTOX Cosmetic as it relaxes the lines and wrinkles on the forehead, glabellar lines and crow's feet. Jeuveau also lasts on average 3 – 4 months, but it kicks in sooner than BOTOX, as patients notice the relaxing of lines on day 1 or 2.
What is Dysport?
Dysport is yet another neurotoxin that we use at The Shot Shop to temporarily improve the look of frown lines between the eyebrows, on the forehead and around the eyes. Dysport gives the softest or most natural result out of all the neurotoxins that we use. Patients report that they start to see improvement in lines and wrinkles in about 3 days; Dysport lasts on average 4 months.
FILLERS
What are fillers, also known as dermal or injectable fillers? What are fillers used for?
The Shot Shop by Leah Kenney, PA-C offers an assortment of injectable filler options to fill the various needs of our patients. With over 21 years of experience and the most advanced training and techniques, Leah and her staff will help you to select the type of filler that will help you to achieve optimal results. We take a lot into consideration when selecting the appropriate filler, starting with your specific concern, your desired result, and the area being treated.
Injectable Fillers such as Juvederm, Juvederm Ultra, Juvederm Ultra Plus, Voluma, Volbella, Vollure, Restylane and Sculptra are used at The Shot Shop. We use these fillers in a variety of situations and for a variety of reasons, including:
– The correction of moderate to severe facial wrinkles and folds
– Smoothing of fine lines including laugh lines
– Filling in deep lines and folds
– Filling in marionette lines
– Plumping and defining the lips
– Adding/restoring volume to the cheeks
– Defining the chin and jawline
*Individual results may vary