EMTONE

Toned. Not Textured. Non-Invasive. No Downtime.
The EMTONE is the first and only device that simultaneously delivers both thermal and mechanical energy to treat all major contributing factors to cellulite. 
Have you tried diet and exercise? Creams and lotions? At-home massagers? 
Exercise helps reduce fat deposits and increase blood flow. Unfortunately, it does not target other factors that significantly contribute to the dimpled surface of the skin, such a rigid collagen fibers. When it comes to creams and lotions, they only work superficially since they do not typically penetrate into deeper skin layers. This can lead to the temporary improvement of the skin appearance but rarely address the root factors of cellulite. And when using at-home massagers properly you may be able to increase blood flow and improve your lymphatic, but there is no ability to use these devices to target collagen fibers and adipose tissue. As these are the main factor of dimpled skin a.k.a. cellulite, they do not work on cellulite.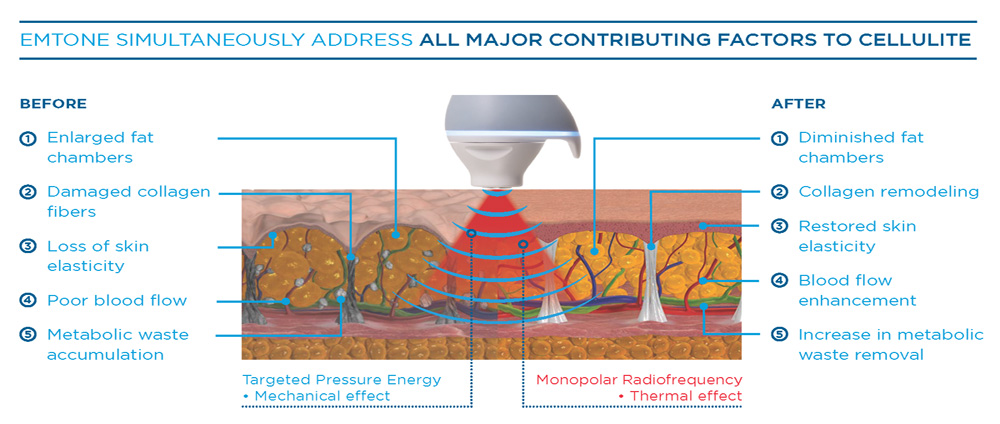 FAQ'S
Who is the right candidate for EMTONE?
EMTONE is ideal for anyone looking for a non-invasive cellulite reduction and overall improvement of the skin appearance.
What does an EMTONE treatment feel like?
The most common perception of the therapy is being compared to a hot stone massage with intense mechanical vibrations. The treatment is performed in a relaxing, lying-down position.
What areas can be treated with EMTONE?
EMTONE can be used to treat the abdomen, buttocks, front of thighs, back of thighs, and arms.
How many sessions do I need?
During your consultation or first visit, our provider will help design your individual treatment plan. Most patients undergo four treatments, scheduled once a week.
How long is the treatment?
A treatment typically takes about 20 – 30 minutes, depending on the treated area. 
How fast will I see results?
Patients have reported improvements after a single treatment session, although results typically continue to improve over the next few months and are usually seen within twelve weeks after the last treatment.
Is there any downtime?
There is no downtime with the EMTONE treatment so you may resume normal activities immediately after the treatment. 
Are there any special supplements or diets I need to follow before or after the EMTONE treatment?
EMTONE treatment does not require any pre-treatment preparations. It is recommended to follow a healthy lifestyle, balanced diet and proper hydration for best results.
Will I lose weight with EMTONE?
No, EMTONE does not help with weight reduction. 
Before and after's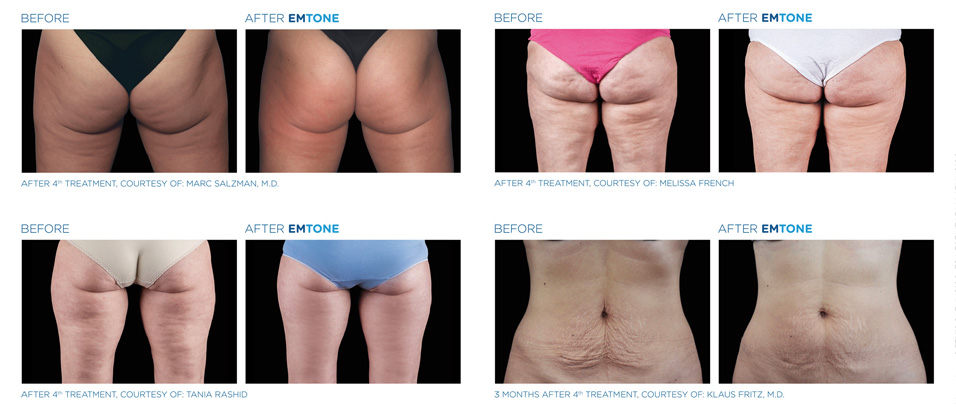 *Results may vary from person to person