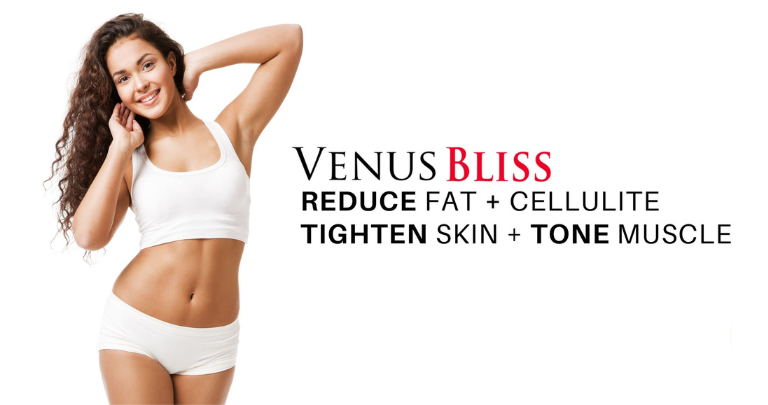 The Holy Trifecta Tri-Body Treatment

Laser Lipolysis Fat Melting | Skin Tightening & Cellulite Smoothing | EMS Muscle Toning
The brand new, tri body treatment from the upgraded Venus Bliss to the NEW Venus Bliss Max combines three treatments in one platform. 

A lot of us eat healthily and exercise, but no matter how hard we try, we still may have stubborn pockets of fat and lax skin.
The brand new Venus Bliss Max is clinically proven to non-invasively induce lipolysis to safely and comfortably deliver energy and heat to the abdomen and flanks which in turn results in a reduction of fat in the treated areas. Venus Bliss MAX™ diode laser technology delivers effective, comfortable, and efficient lipolysis treatments by heating the entire targeted subcutaneous layer to the treatment temperature unlike other thermal fat reduction technologies. The 1064 nm wavelength is optimal for penetrating into the adipose tissue layer, with homogeneous energy distribution capabilities. Extended heating cycles elevate the targeted fat layer temperature to 42-46ºC, effectively damaging and destroying fat cells in just 25 minutes per treatment. The apoptotic fat cells are then eliminated through the body's lymphatic system over time. 
Venus Bliss Max also uses a special Mp2 applicator to tighten skin plus reduce circumference and cellulite.  This innovative technology works through a combination of Multi-Polar Radio Frequency (RF) and Pulsed Electro Magnetic Fields (PEMF) to yield synergistic effects during treatments. This patented technology can reduce cellulite for smoother, firmer-looking areas while also resulting in tighter skin appearance. This is a proven and comfortable treatment.
The third treatment from the Venus Bliss Max device is the FlexMAX which is an EMS muscle toning treatment. Controlled and precise energies are delivered uniquely to muscle groups via this new electrical muscle stimulation. The muscles are safely activated without heating the surrounding tissue. Paired with specific pulse durations by muscle group, performance-informed smart training programs and advanced adaptive algorithms, each treatment is fully personalized and mimics a real training session that can build intensity over time. FlexMAX EMS enables effective and comfortable treatment programs regardless of your fitness level, resulting in stronger and more defined muscle appearance.