Skincare Boot Camp at The Shot Shop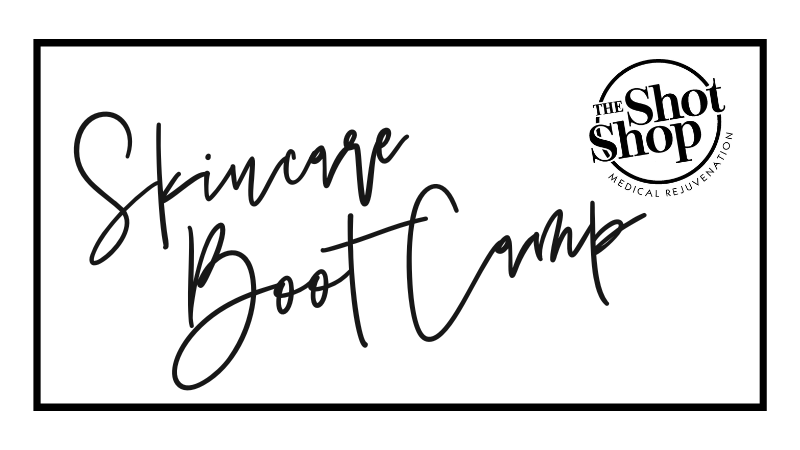 Our exclusive Skincare Boot Camp will cause significant changes in your skin.
At The Shot Shop, we have designed multiple skincare treatment programs to make significant changes in your skin in a short period of time. With a combination of medical-grade skincare, prescription skincare, medical-grade facials, peels and/or treatments, your skin will be noticeably more clear, even in tone, with less fine lines and wrinkles and more. 
There are many Boot Camp plans to choose from.
GOOD PROGRAM

8 Weeks 7 in-person appointments
YOU CHOOSE DiamondGlow $1299 or HydraFacial $1399
Week 1 Before Photos | Product Kit Customization | Product Education |DiamondGlow or HydraFacial  
1 hour appointment  
Week 2 Skin Check-In | Stim Peel  
30-minute appointment  
Week 3 Skin Check-In | Stim Peel  
30-minute appointment  
Week 4 Skin Check-In | Diamond Glow or HydraFacial PLUS Stim Peel  
45-minute appointment  
Week 5 Virtual Skin Check-In  
15-minute appointment 
Week 6 ZO 3-Step Peel  
expect peeling like a sunburn for about 5 days after this treatment 
45-minute appointment 
Week 7 Skin Check-In | LightStim + ZO Mask
30-minute appointment  
Week 8 Final Skin Assessment | After Photos | DiamondGlow or HydraFacial

1 hour appointment  
BETTER PROGRAM
8 Weeks 7 in-person appointments
YOU CHOOSE DiamondGlow $1399 or HydraFacial $1499
Week 1 Before Photos | Product Kit Customization | Product Education |DiamondGlow or HydraFacial  
1 hour appointment  
Week 2 Skin Check-In | Stim Peel  
30-minute appointment  
Week 3 Skin Check-In | Stim Peel  

30-minute appointment  
Week 4 Skin Check-In | Diamond Glow or HydraFacial PLUS Stim Peel  

45-minute appointment  
Week 5 Virtual Skin Check-In  

15-minute appointment 
Week 6 Micropen Treatment  
30 minutes numbing prior to appointment
60 minute appointment 
Week 7 Skin Check-In | LightStim + ZO Mask

30-minute appointment  
Week 8 Final Skin Assessment | After Photos | DiamondGlow or HydraFacial

1 hour appointment 
BEST PROGRAM

9 Weeks 7 in-person appointments
YOU CHOOSE
Face Only $1500 or Face, Neck & Decollete $1800
Week 1 Before Photos | Product Kit Customization | Product Education |DiamondGlow
1 hour appointment  

Week 2 On own with skincare
Week 3 Skin Check-In | Stim Peel  
30-minute appointment  
Week 4 Virtual Skin Check-In  
15-minute appointment 
Week 5 PRX – T33
45-minute appointment
Week 6 PRX – T33 

45-minute appointment
Week 7 PRX – T33  

45-minute appointment
Week 8 PRX – T33  

45-minute appointment
Week 9 Final Skin Assessment | After Photos | LightStim + ZO Mask
1 hour appointment 


SKINCARE BOOT CAMP JUNIOR

8 Weeks – 3 in-person appointments – 2 virtual appointments  $799
Week 1 Diamond Glow with Stim Peel | Before Photos | Skincare Kit | Product Education
1 hour appointment
Week 2 On Own with Skincare
Week 3 Virtual Skincare Check In
15 minute virtual appointment via phone or text
Week 4 DiamondGlow with Stim Peel | Skin Check In
45 minute appointment
Week 5 On Own with Skincare
Week 6 Virtual Skincare Check In 
Week 7 On Own with Skincare
15 minute virtual appointment via phone or text
Week 8 DiamondGlow with Stim Peel | After Photos 
1 hour appointment
HOME BASED SKINCARE BOOT CAMP 
6 Weeks – 1 in-person appointment – 2 virtual appointments $600
Week 1 Stim Peel | Skin Care Kit  | Product Education
45 minute appointment
Week 3 Virtual Check In Appointment
15 minute appointment
Week 6 Virtual Check In Appointment
15 minute appointment
*individual results may vary