SkinnySHOTZ by The Shot Shop Weight-Loss Program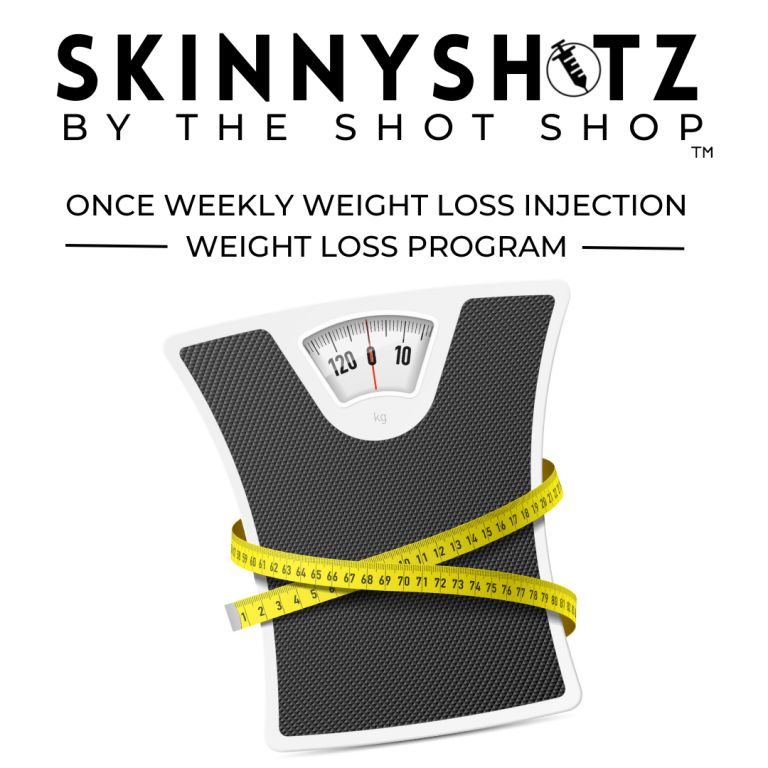 SkinnySHOTZ by The Shot Shop
This is the latest celebrity craze that has the hottest stars flattening their tummies and losing those extra lbs. We have been using it at The Shot Shop very successfully for the last year and have designed an entire weight-loss program around this once-weekly injection.
SkinnySHOTZ by The Shot Shop is an entire weight loss program designed around an injection which is a proprietary blend of ingredients including a drug that is a GLP-1 Agonist. This drug works with your hormones to stimulate the pancreas to produce additional insulin, delaying the stomach's emptying time, and signaling to the brain a feeling of fullness. This results in a very powerful and lasting appetite suppression for most patients, in addition to improving blood sugar levels. It also includes an amino acid to assist with overall fat metabolism. This together helps you eat less, which leads to weight loss.
Adults lost on average 15% of their body weight. Many of our patients have lost 20% of their body weight in less than a year's time.
The following video explains more about how this medication works and why it is important to titrate the dose slowly.
*Results may vary from person to person
Our proprietary SkinnySHOTZ by The Shot Shop Weight Loss Program includes the following for twelve weeks:
Weekly administration and dose titration of SkinnySHOTZ Medication (injection) for twelve weeks
Weekly MICC or B12 Shotz (if indicated by your blood work) for twelve weeks
Baseline Screening Labs
Prescriptions for side effect management, as needed
Weight loss and medication counseling included