IV VITAMIN THERAPY in ENFIELD, CT & LONGMEADOW, MA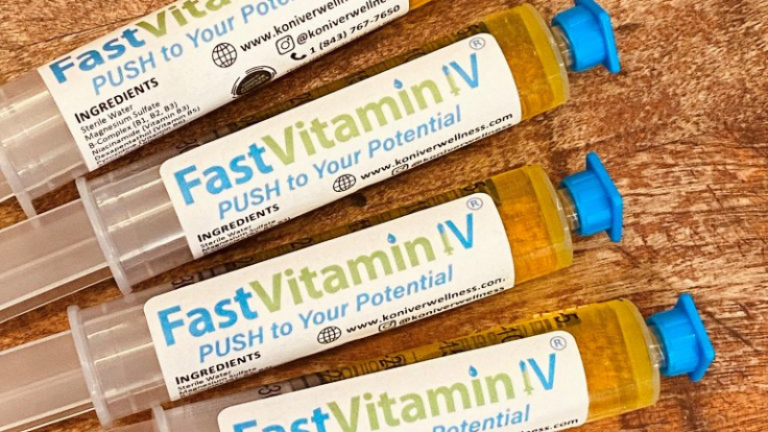 IV VITAMIN THERAPY
We offer various IV Vitamin therapies here at The Shot Shop Med Spa in Enfield, CT, just minutes from Longmeadow, MA. IV Vitamin Therapy works through the administration of vitamins and nutrients directly into the bloodstream via an IV Infusion. This way of getting vitamins and nutrients into the body bypasses the digestive system which provides increased cell absorption and 100% bioavailability of the vitamins.
We currently offer the following IV's at The Shot Shop:
FastVitaminIV® – This IV is made with a proprietary blend of 19 vitamins, minerals, and amino acids. It is given through the vein in approximately one to two minutes. We suggest adding a bag of hydration prior to the fast push of the FastVitaminIV®.
NAD+ IV Therapy – Performance enhancement moves from the bedroom to the boardroom with brain-boosting NAD IV supplements at the area's best wellness medical rejuvenation medspa in Northern Connecticut and Western Massachusetts.
The ultimate in brain rejuvenation, NAD+ is brain refuel.  A derivative of Vitamin B3, this series of IV Vitamin therapy will help you to perform better, think better, focus better, and FEEL better with more energy than you thought possible. NAD+ Vitamin IV Therapy is performed in a series of five treatments over ten days, with one enhancement treatment given within one week to one month following the initial treatment. 
VITAMIN INJECTIONS

We also offer Vitamin Injections or "SHOTS" at The Shot Shop Med Spa by Leah Kenney, PA-C. These shots are administered via intramuscular injection (often referred to as IM) so there is no gastrointestinal metabolism, which also allows for increased nutritional absorption.
FAQ'S
What are IV Vitamins good for?
IV Vitamin Therapy is used to treat a lot of things. Whether you are hungover, suffering from jet-lag, need an energy boost, sick, tired or dehydrated, we have the remedy with one of our customized IV Vitamin therapies.
What types of IV Vitamins and drips do you offer?
We offer FastVitaminIV® and NAD+ IV Therapy.
What types of Vitamin "SHOTS" do you offer?

We currently offer a B12 SHOT and a MIC SHOT.
What is the treatment time and how many do I need?
At The Shot Shop by Leah Kenney, PA-C we will help you to create a treatment plan to best meet your specific goals. An injection takes just a few minutes. We will customize a plan for you depending upon your level of vitamin intake and deficiency. An IV will take 45 – 60 minutes, and again, we will customize a treatment plan based on your condition and goals.
Is there any downtime?
There is no downtime. You can leave The Shot Shop and resume your regular activities after receiving an injection or IV.
How long does it last?
The vitamins from IV Vitamin Therapy remain in your system and maintain your levels for approximately 2-3 weeks as it is absorbed directly into your bloodstream. A vitamin SHOT is equivalent to taking one week's worth of oral vitamin supplements.
*Individual results may vary