TED Hair Rejuvenation Treatment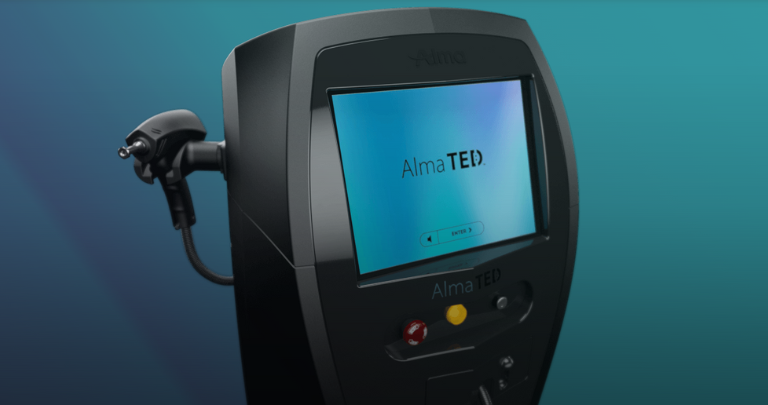 Alma TED Hair Rejuvenation Treatment
If you are one of the more than 80 million men and women who suffer from hair loss concerns, the Alma TED hair rejuvenation treatment is an excellent solution for you. Alma TED is a new option, and it is changing the world of hair rejuvenation.
Alma TED is an ultrasound-based system with a proprietary tip that is engineered with impact delivery. TED stands for transepidermal drug delivery. Without using needles, this proprietary tip infuses special ingredients right where they are needed to support optimal hair and scalp health.
How does TED work?
The ultrasound-based system is very advanced without being invasive. By combining acoustic sound waves with air pressure, the proprietary tip drives specially formulated medications past the skin's protective layer and deep into the dermis. It does so at a perfectly calibrated depth to allow your skin to absorb the highest amount of these medications for maximum effectiveness, thus greatly nourishing the hair follicle and scalp.
Is TED painful?
No, TED is not painful. In fact, TED is extremely different from alternative hair rejuvenation and restoration treatments. While PRP Hair Rejuvenation or transplant procedures use needles, TED does not. The entire treatment is done without needles and zero pain.
What Can You Expect from TED?
While every patient is different and will respond to treatment differently, TED has been written about in more than 20 clinical published studies. At The Shot Shop, our patients have been loving their results and noticing fewer signs of shedding and early signs of new hair growth in as little as two weeks. Many patients will visibly notice new hairs starting to grow one month after treatment. Two months after treatment, patients are seeing increased hair volume. After three months, patients are seeing less of their scalp and bald spots filling in.
How Many TED Treatments Are Needed?
As each patient is different, we require a consultation for a personalized treatment plan. Most patients will require three treatments. At your consultation, your provider will examine the area you'd like to treat and design a personalized treatment plan for optimal results.
What Conditions does Alma TED treat?
Alma TED Hair Rejuvenation Treatment is an effective treatment for a variety of hair loss conditions. TED treats male and female pattern baldness which is also known as androgenetic alopecia. Androgenetic alopecia typically affects males in their early 20s but usually does not affect females until later in life. Alma TED has also been shown to be effective against non-scarring alopecia. 
Where can Alma TED be used?
TED can be used on the scalp, eyebrows, and beard.
Alma TED Hair Rejuvenation Before and After Pictures!
*results may vary from person to person