EMSCULPT at THE SHOT SHOP in ENFIELD, CT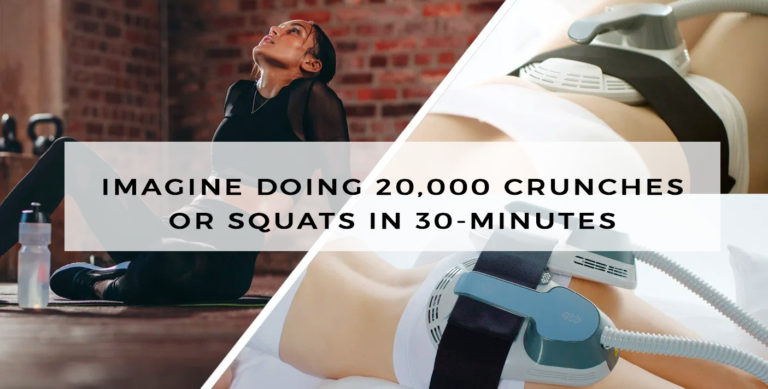 EMSCULPT is like nothing you've seen before at The Shot Shop Med Spa in Enfield, CT! It's a completely new category of technology that allows you to build muscle and sculpt your body. It is the first FDA-cleared energy device approved to burn fat and build muscle mass with no downtime and no surgery.
Imagine doing 20,000 crunches or squats in 30 minutes — that's what EMSCULPT simulates. EMSCULPT causes your muscles to contract 20,000 times in one treatment. This innovative solution simultaneously affects both muscle and body contour to dramatically change the tone and appearance of the treated area. By delivering optimal energy in a short period of time, we can now strengthen, firm and tone the abdomen and buttock areas non-invasively.
FAQ'S
What is EMSCULPT?
EMSCULPT is a non-invasive procedure that we have at The Shop Shop, now in Connecticut. It utilizes HIFEM or High-Intensity Focused Electromagnetic technology to cause specific muscle reactions, called supramaximal contractions. The muscles respond with a deep remodeling of their inner structure and create new protein strands and muscle fibres. The process results in increased muscle mass as it simultaneously builds muscle and burns fat. It truly is a revolutionary solution to reshape the body, tighten the abdomen and provide a non-invasive butt lift.
What is the treatment time and how many sessions do I need?
At The Shot Shop by Leah Kenney, PA-C, we will help you to create a treatment plan to best meet your specific goals. A typical EMSCULPT treatment plan consists of 4 – 30 minute session treatments, spaced 2 to 3 days apart.
What does it feel like?
People report that an EMSCULPT treatment feels like anything from static electricity to a focused workout on one muscle group. You will be totally relaxed and laying down during the treatment.
Is there any downtime?
EMSCULPT is a non-invasive treatment and there is no downtime whatsoever. You can resume your regular activities immediately after your EMSCULPT treatment.
Does it work and when will I see results?
YES! EMSCULPT has been tested in multiple clinical trials and it works. There have been multiple safety studies and efficacy studies performed on EMSCULPT. After completing and EMSCULPT treatment, you will begin to feel results such as tightening, immediately. Noticeable results are typically reported within four weeks after the last session and continue to improve for several weeks following.
Before and afters!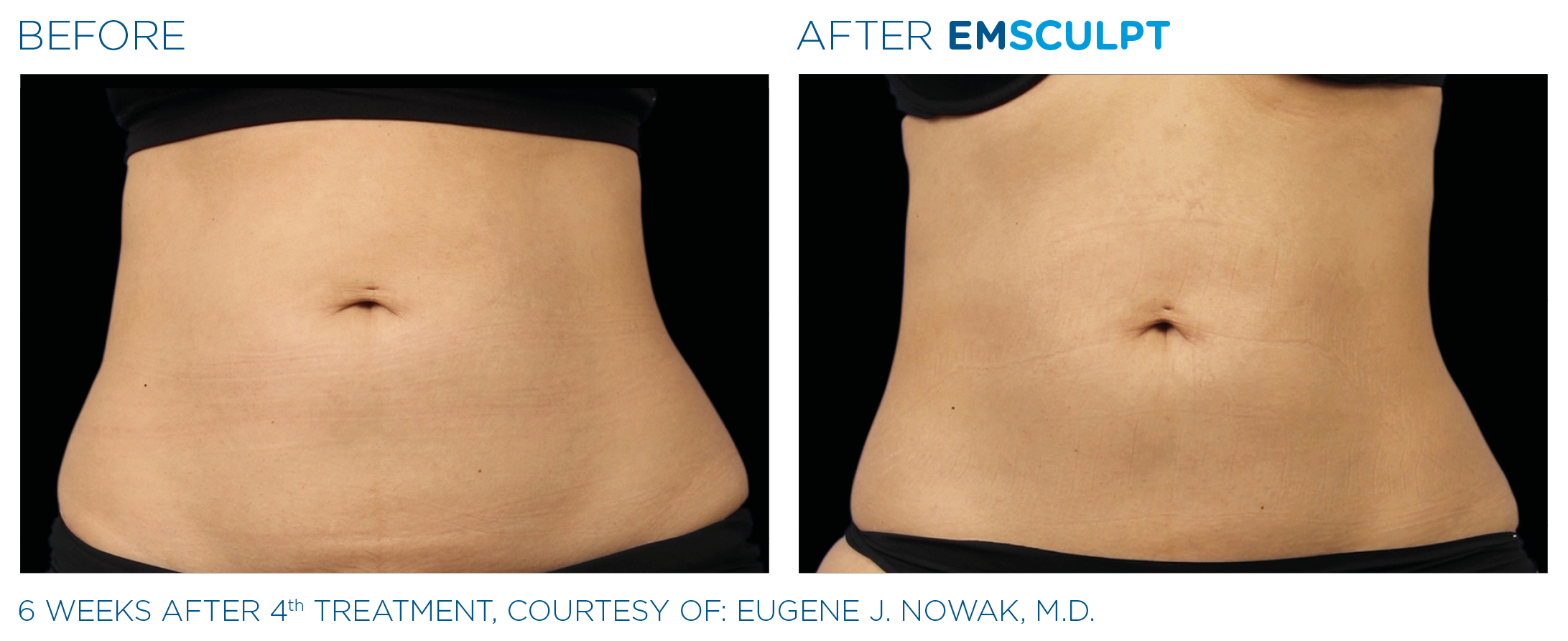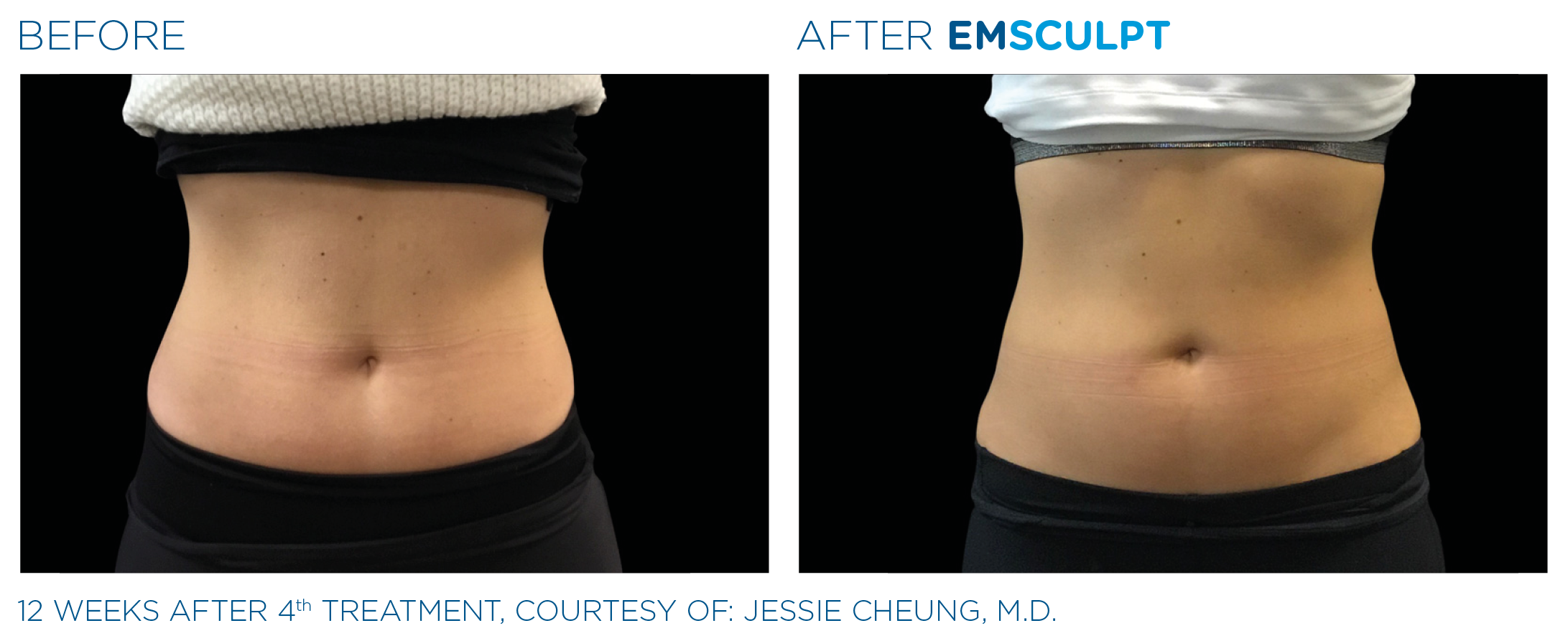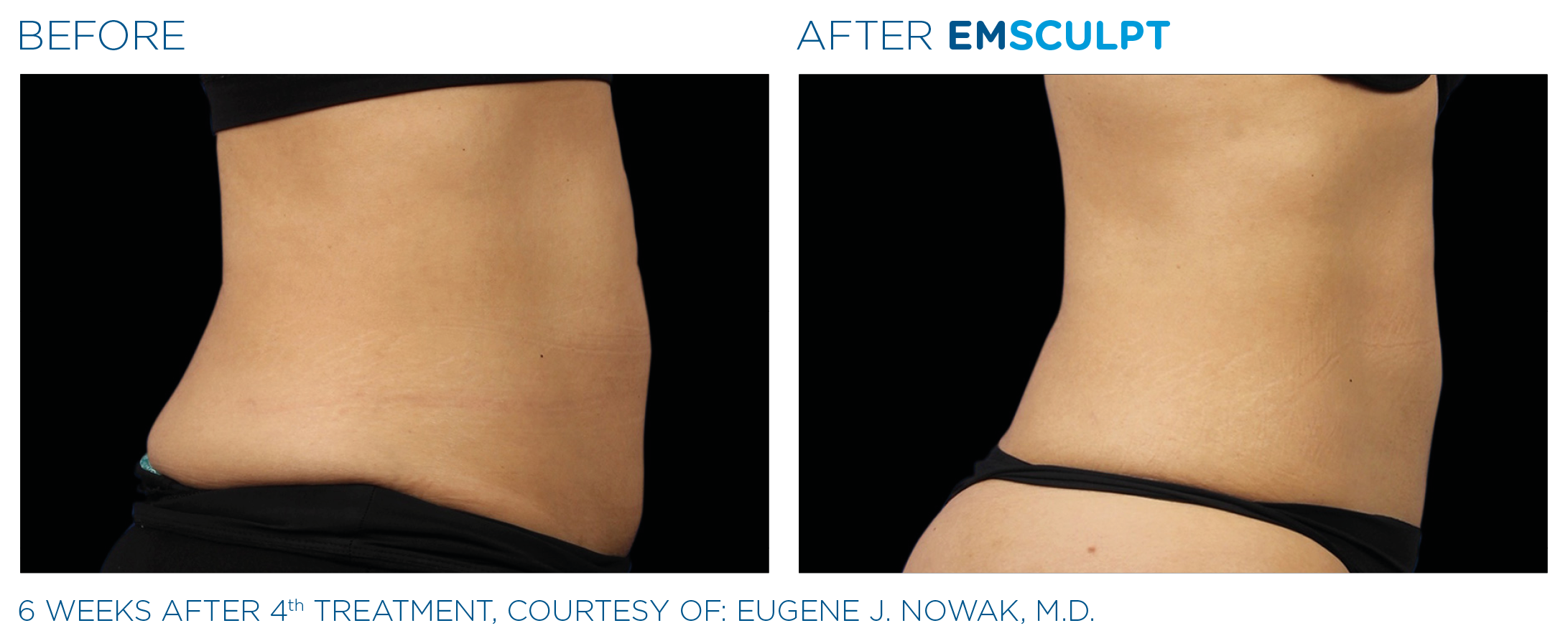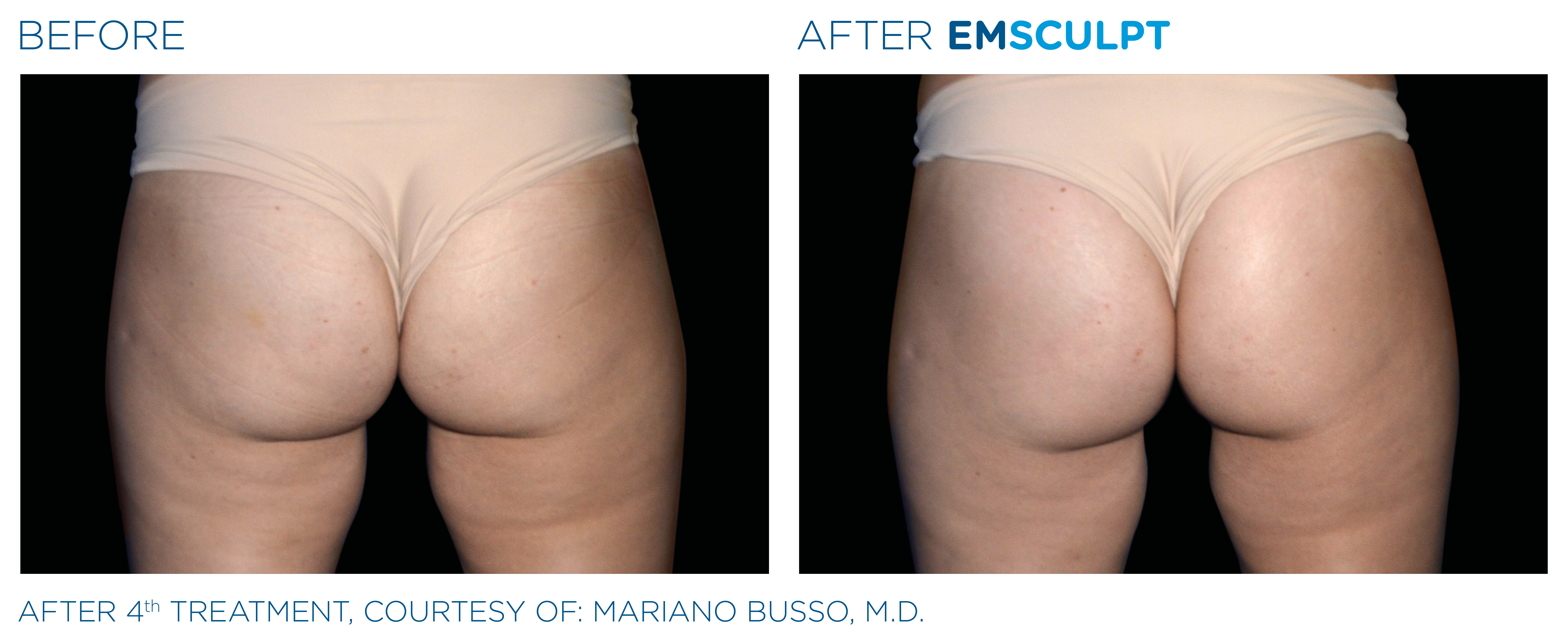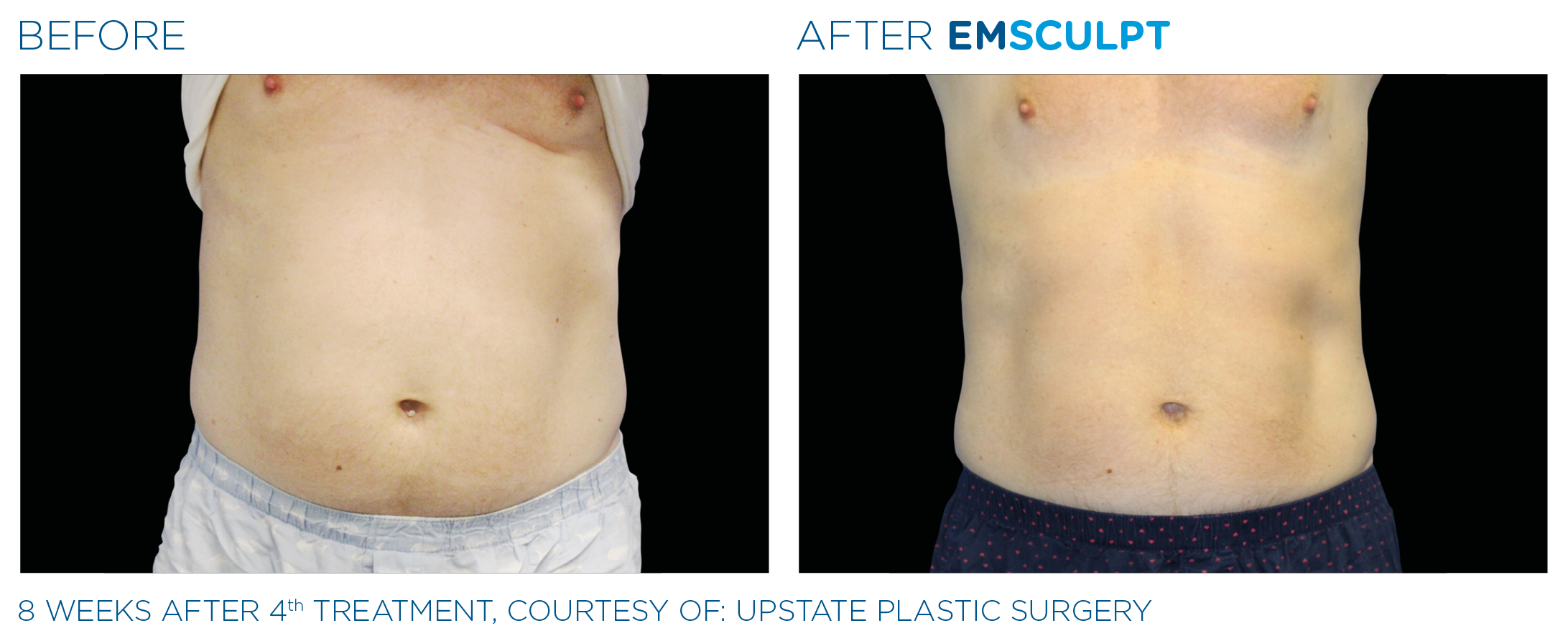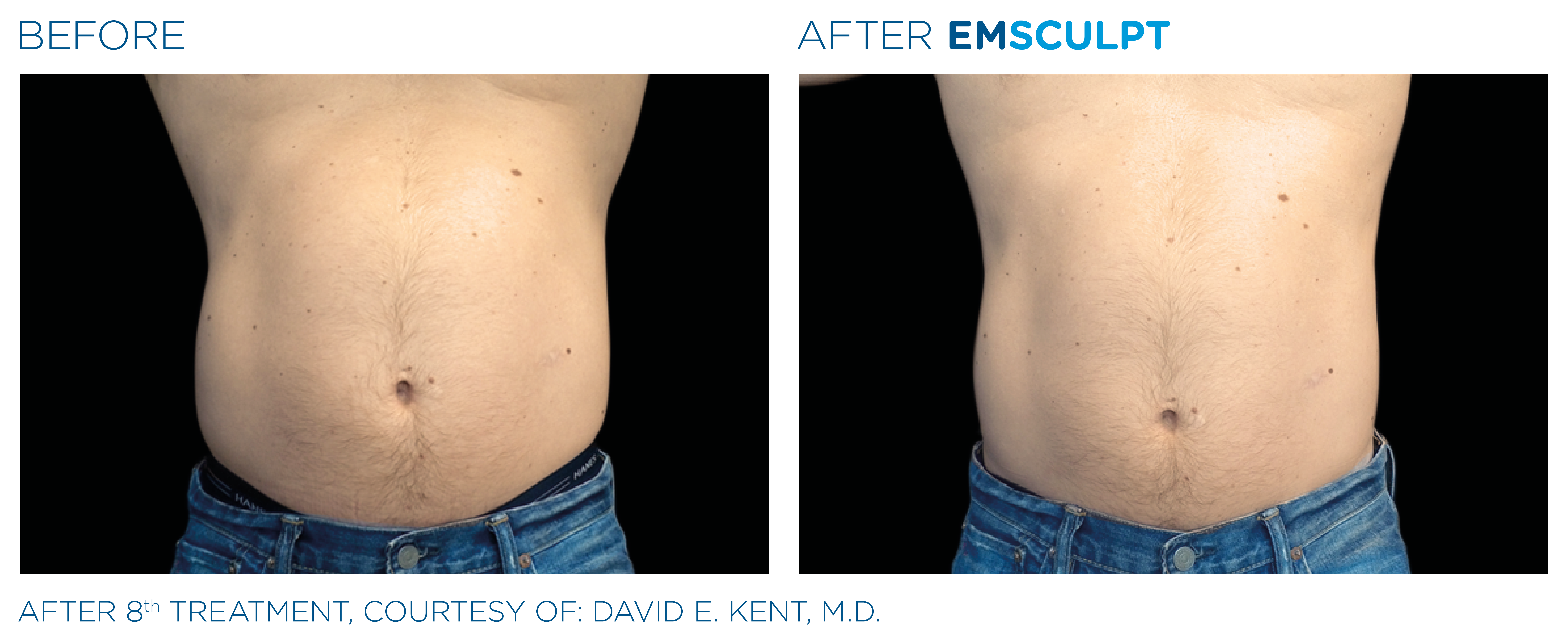 *Results may vary from person to person